Rest easy with the knowledge that your home is free of any electrical hazards. By turning to the service experts at Grillo Service Solutions, you are putting your property in experienced, well-qualified hands. We care about the safety of your home, and we do whatever we can to protect what's important to you and your family. One way we do this is by offering an electrical safety inspection to our customers. Our licensed electricians perform a thorough evaluation of your entire electrical system and alert you to any risks or issues they find, as well as opportunities for better energy efficiency.
If you want to greatly reduce your likelihood of electrical fires, talk to our electrical inspection service experts. Electrical issues and improper wiring are among the top causes of property damage, home fires, and electrocutions in the United States. To avoid these hazardous and potentially deadly situations, it's important to schedule regular inspections by our licensed, qualified technicians.
When to Consider an Electrical Inspection
When is a good time to ask us to perform an electrical inspection? Anytime is. If you feel worried or concerned that your home may have an electrical issue then give our team of experts a call.
Electrical safety inspections are always a good idea any time you are unsure of your wiring.
If you are buying a new home or going through a major home renovation it is a great idea to let our electrical experts perform an inspection for you. It's also helpful to get your house inspected if it's older because the wiring may be outdated and we are the right company to get your electrical needs in order.
Is your house is brand new or a hundred years old? Our electrical service experts at Grillo Service Solutions, Inc are trained and experienced in providing thorough electrical evaluations of homes of every age. If we do find a problem that needs immediate attention, our electrical service experts are happy to provide an array of services without the need to schedule another service visit.

Please download the NFPA Electrical Safety Checklist below. Electrical safety should be check monthly.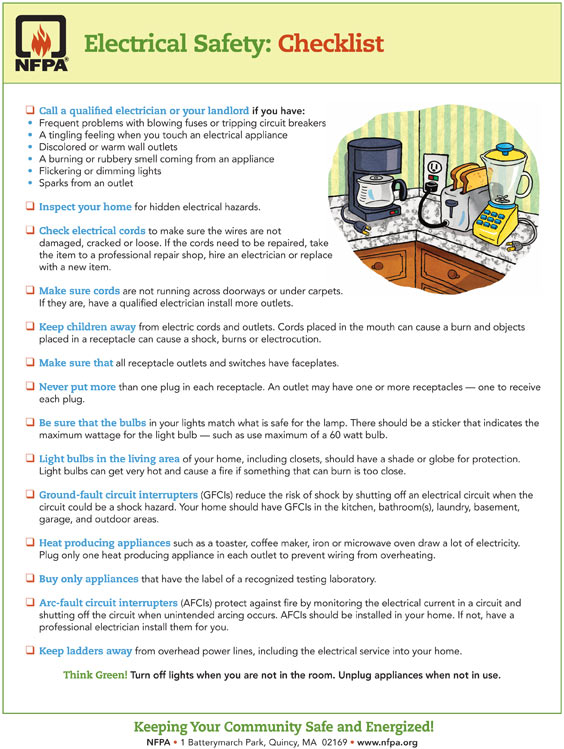 Click to view full-size PDF

Smoke alarms save lives! Please download the NFPA smoke alarm reminder below.


Click to view full-size PDF
Do you need help with
electrical safety inspections?
Contact us - our technicians are ready to help you with yout electrical safety inspections.